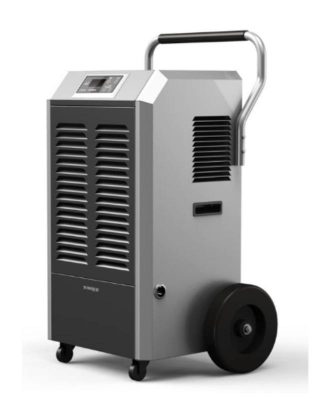 Does your home or office get unpleasantly stuffy at times? Especially if you start spotting signs of mould on your walls, these are often a result of excess humidity and moisture in the premises. In the long run, it can trigger allergies and other health issues if left untreated for a prolonged period of time. Before it reaches that stage, a good industrial dehumidifier will be essential to restore normal humidity, remove excess moisture, prevent the growth of pathogenic microbes like mould and improve your indoor air quality. If you are looking for a short-term solution that can address these issues effectively, Lumiair offers a range of state-of-the-art, industrial grade dehumidifiers for rental.
Key Benefits of Our Industrial Dehumidifiers
Rates of dehumidification which reliably and constantly exceed rates of evaporation for the most efficient dehumidification
Dehumidification processes range from the use of Commercial Grade Refrigerants (CGR) to Low Grain Refrigerants (LGR) for a wide variety of needs
Humidity sensing machines that will cut off at specific humidity settings
Multiple ducting options – for intake air, filtered air and dehumidified supply air
Placement identification for efficient moisture extraction
For Industrial Dehumidifier Rental and More in Singapore
With industrial dehumidifier rental, you can ensure optimal comfort in your home or office whenever the need arises. On top of industrial dehumidifiers, we offer other equipment available for rental to increase the overall cleanliness and hygiene of your living spaces. Here at Lumiair, we have assisted many clients across various industries with our in-depth knowledge and expertise, complemented with state-of-the-art techniques and equipment.
If you are interested in exploring our comprehensive range of services such as mould remediation and odour removal, feel free to get in touch with us for more information – we are happy to help you work towards a healthier home or office environment.
---
---
Performance
Dehumidification Capacity: 158L/D
Operational Temperature: 5-38 Degrees
Humidity Control Range: 10% – 90%
Refrigerant: R22/1100G
Coverage: 2500 Sqft
Power: 2300W
Dimension
Net Weight: 69kg
Product (W*H*D): 530*672*985mm
---
Gallery