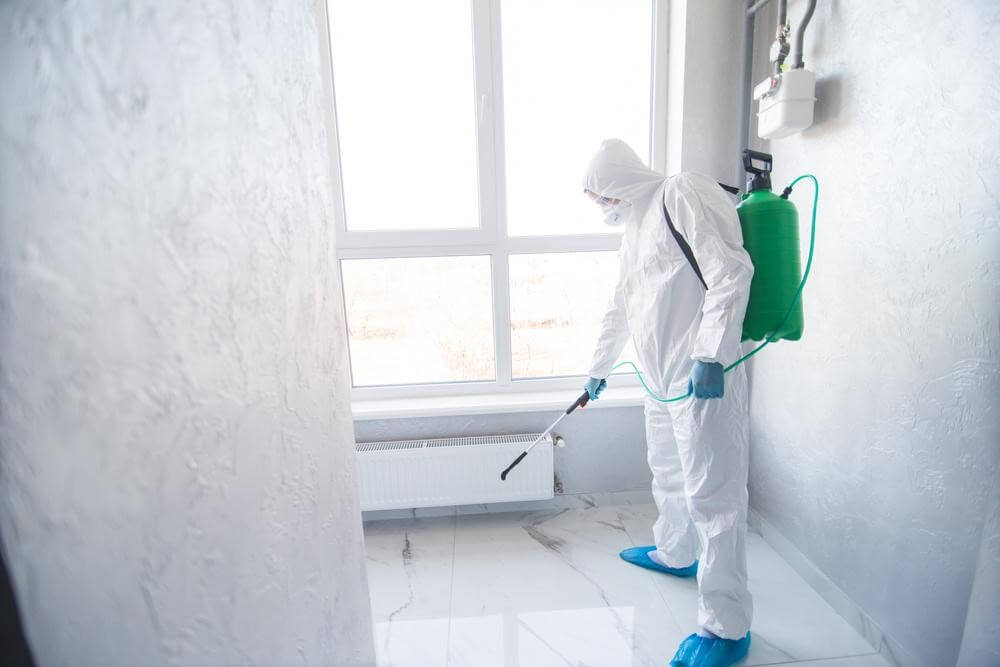 Mold is one of the most common problems faced by Singaporeans in the workplace. Due to Singapore's high humidity year-round, accumulated moisture (especially in indoor spaces with poor ventilation) can lead to serious mold outbreaks that are not detected until it is too late. In both the short- and long-term this can have severe impacts on the health of you and your employees or contractors. When the situation is too dire, mold cleanup or removal services may be necessary to remediate the scene and remove mold growth.
However, there are ways to avoid letting mold grow unchecked in your business, workplace, or office. If you suspect there could be mold growing in your business premises, get in touch to find out about Lumiair's mold inspection services.
Tackle or clean up leaks immediately
Proper and regular moisture control is the number one way to prevent mold outbreaks. Mold spores require moisture to grow and even small amounts of humidity or dampness can be enough to trigger the process. Offices with carpeted floors, multiple air-conditioning units, or dealing extensively with water or piping can be at a higher risk for hidden leaks that could develop into mold.
Regularly perform checks on areas in your premises, and mop or clean up any leaks immediately. For offices with carpeted flooring, it is important to completely dry the affected areas as carpet can retain moisture very effectively. Air circulation systems including air-conditioners, ventilators, and heaters should also be regularly inspected by trusted electricians or professionals.
Take immediate action if you have experienced flood damage
Whether due to inclement weather, burst pipes, or unexpected accidents, you may experience flooding in your office premises. Flood damage restoration should be initiated immediately to clean up excessive or unattended moisture, so that your workforce can safely return to work as soon as possible. Lumiair's trained Consultants will conduct flood extraction and moisture removal from hard surfaces such as concrete and wood, as well as soft furnishings like carpets, fabrics, and upholstery.
If you have recently experienced flood damage and want to ensure your premises are free from conditions that could encourage mold growth, find out more about our mold inspection services.
Ensure proper ventilation throughout your premises
If your premises have high humidity levels (e.g. kitchens, washrooms, food processing areas), make sure to install proper ventilation throughout the space. If possible, you can also install humidity monitors to receive accurate data on the moisture levels in your premises.
Proper ventilation can help clear the air of excess moisture to help prevent mold outbreaks. However, depending on the needs of your business, proper ventilation may need to be used with other measures for maximum efficiency.
For food and beverage premises, mold growth can be particularly damaging as it poses a health risk to your patrons. Engage in mold inspection or mold removal services immediately if you suspect mold growth.
Gather regular employee feedback
If your employees are reporting the following symptoms, it could be a sign of mold in your premises:
Wheezing
Coughing
Throat irritation
Irritation of the skin or eyes
Rashes on the skin
Nasal congestion
Increased incidence of allergies
Nausea, headache, or dizziness
Regularly gather feedback on your employees especially if your premises are at a higher risk for mold. Gathering this information allows you to make proactive choices to decrease mold growth; with early intervention, you may be able to nip the issue in the bud without resorting to mold removal services.
Ease your mind with our Mold Inspection and Cleanup services
Lumiair's expert technicians have extensive knowledge of all stages of mold inspection, removal, and cleanup. Put your mind at ease and keep your workforce safe when you engage our mold inspection and mold removal services in Singapore. Get in touch with us to find out more or request a quote.