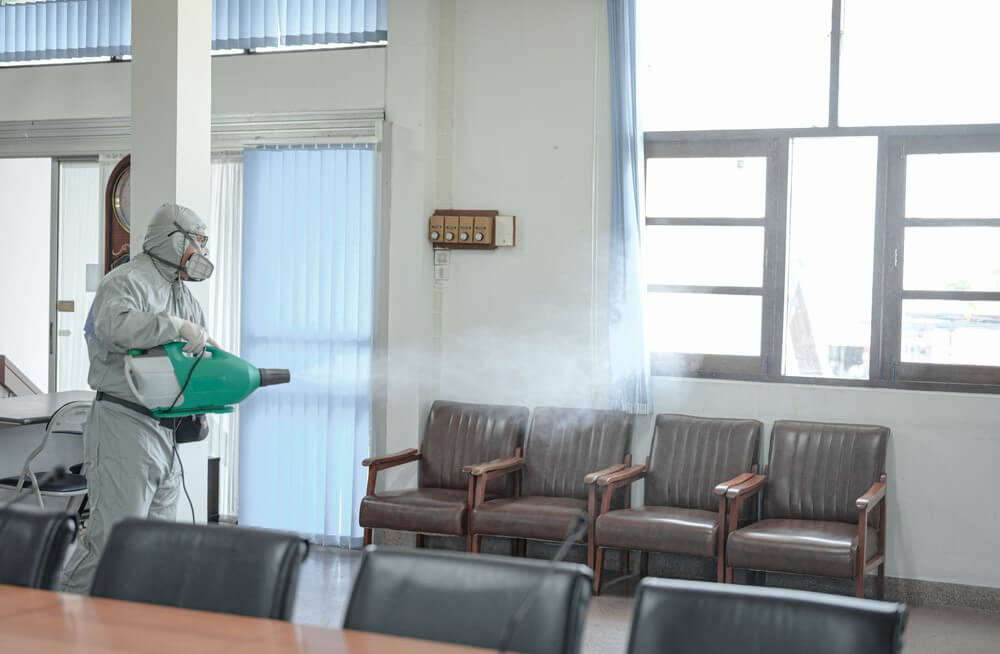 While the ongoing COVID-19 pandemic is still on everyone's mind, that does not mean that we can stop worrying about other infectious diseases. Common diseases such as Norovirus, Salmonella, and Hand Foot Mouth Disease (HFMD) pose a continued threat to us in many environments including our homes and workplaces.
Cross-contamination can transfer pathogens (organisms that cause infection) between food, equipment, surfaces, and people. This can include bacteria, viruses, fungi, or droppings from pests. Some high-risk environments such as childcare centres, hospitals, and retirement homes require even more regular and thorough disinfection as they deal with groups that are more susceptible to severe illness, or are immunocompromised.
Lumiair offers professional decontamination and disinfection services in Singapore to keep your homes and workplaces clean and hygienic, and help put your mind at ease. We take pride in our work to help keep you, your loved ones, and your colleagues healthy. Speak to us about our decontamination and disinfection services today!
Disinfecting the Home and other Indoor Environments
Both humans and animals can be at risk of being infected by severe illness. Daily cleaning of any indoor environment is essential to maintaining a clean space, but it is not enough to tackle microscopic particles such as Coronavirus strains or bacteria.
Singapore also experiences a yearly haze season, which can deposit harmful substances such as small particles, sulfur dioxide, ozone, nitrogen dioxide, and carbon monoxide in our environments. This could lead to severe health effects such as asthma, respiratory problems, or heart disease.
Lumiair's disinfection services gives any indoor environment a deep cleaning from top to bottom, ensuring that no harmful airborne particles remain. We use government-registered premium grade chemicals and equipment to carry out our job including:
Ozone treatment
Ozone treatment kills bacteria, fungi, and mold and inactivates viruses. Our custom-built 3rd generation ozone machine is cost-effective and safe for most indoor and outdoor surfaces, as our specially engineered machines leave no chemical residue behind.
Ultraviolet Germicidal Irradiation (UVGI)
UVGI is effective in combating a host of infectious organisms, particularly bacteria and viruses. Our UVGI machine can neutralise serious pathogens on surfaces as well as in the air including the COVID-19 virus, bacteria, and mould.
Chemical Atomizer
Lumiair's trained disinfection experts will choose the right chemicals to suit your environment and needs. Our Chemical Atomizer allows us to customise both chemicals and droplet size to ensure maximum contact time to kill any virus or pathogen. Two of the most effective chemicals that we use are
Quaternary ammonium compounds (Quats): This chemical is the most effective disinfectant available, and kills pathogens by disrupting cellular membranes.
Hydrogen Peroxide: Hydrogen peroxide is effective and safe for pets and people, and uses enzymes to stop the spread of bacteria and other microorganisms.
These chemicals are safe and 100% biodegradable, and are already widely used for disinfection in offices, homes, hospitals, and childcare centres.
Disinfecting the Workplace
Different types of workplaces will have different approaches to disinfection based on factors such as foot traffic, the nature of the job, and the presence of vulnerable groups of people. We offer various decontamination services for workplaces including:
Proactive Decontamination (Recommended for areas such as childcare centres, kindergartens, schools, and eldercare centres)
Scheduled Decontamination (Recommended for areas such as eateries, food preparation sites, or industrial sites)
Viral Outbreak Emergency Decontamination (Recommended in the event of a viral outbreak)
We also offer Coronavirus disinfection services that help to ensure that all Coronavirus pathogens are completely eliminated from your premises. Lumiair is listed by Singapore's National Environment Agency (NEA) as an approved vendor to carry out Coronavirus disinfection works.
Ensure your Home and Work environments are safe with Lumiair
Cleaning a surface is not the same as disinfecting it to kill viruses and bacteria. Protect your loved ones and employees from dangerous pathogens today. Get in touch with us for more information on Lumiair and our disinfection and decontamination services in Singapore.